Team
---
Dorothy Lawrence
Principal Attorney and Owner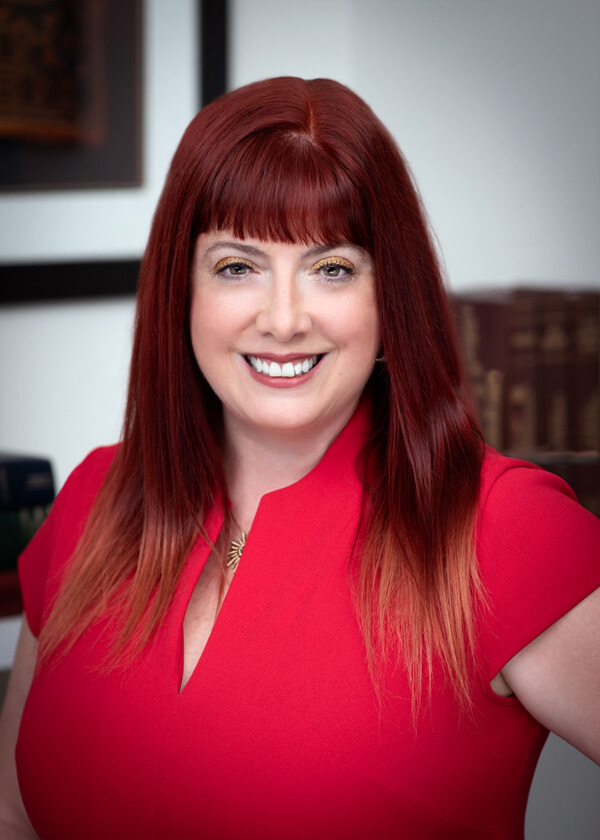 Dorothy Lawrence is a seasoned financial attorney with over 13 years of experience in the fields of tax, bankruptcy and debtor defense. Upon graduation from Louisiana State University Law School, Dorothy continued her studies at the University of Denver to earn her LL.M. in taxation. After finishing her LL.M., Dorothy settled in Dripping Springs to raise a family.  She opened her law firm at the kitchen table while raising an infant.  That kitchen table law firm blossomed into the Dorothy Butler Law Firm. Since that time, she has been assisting individuals and business owners with tax preparation, defense from tax audits, offers in compromise, installment agreements, and formation of nonprofit entities. She annually prepares over 450 tax returns and in 2022 prepared tax returns in 38 different states – still waiting for the year she prepares returns for individuals in all 50 states! She has prepared thousands of bankruptcies and handled even more lawsuits for debtors being sued by their creditors. 
For the past seven years, Dorothy has been named a Rising Star in the field of Consumer Bankruptcy by Super Lawyers. For the past two years, she has been named a Top Attorney by Austin Monthly in the field of Bankruptcy. She was also selected as the Top Law Firm in Dripping Springs 2021. Dorothy is consistently honored in her field as a Top Financial and Bankruptcy Lawyer by her colleagues. 
Dorothy is also a professional musician who regularly performs in the greater Austin area. She is a multi-woodwind instrumentalist, performing on oboe, English horn, clarinet, saxophone, and flute. She has shared the stage with Andrea Bocelli, Bernadette Peters, The Who, Marvin Hamlisch, Il Divo and Celtic Women. She also performs regularly with Broadway Across America performances in Austin. Most recently, she has performed in the orchestras for West Side Story, Mary Poppins, Anastasia and Wicked. She is still waiting for Foreigner to ask her to perform in their symphony orchestra performance! 
In her free time, Dorothy spends time with her husband and two sons. She is a huge Disney lover (as evidenced by the large Disney wall murals in the law firm) and takes several trips a year to the Disney parks. She is also a huge lover of live rock music and can frequently be seen in the front rows of concerts across the Texas area. 
Education
Baton Rouge Magnet High School, Baton Rouge, Louisiana
B.S., Louisiana State University, 2005
Major: Business Administration
Minors: History and English
J.D., B.C.L., Paul M. Hebert School of Law, Louisiana State University, 2008
LL.M., University of Denver, 2009
Licenses
Supreme Court of Louisiana, 2009
Supreme Court of Texas, 2010
U.S. District Court, Western District of Texas
U.S. District Court, Eastern District of Texas
U.S. District Court, Northern District of Texas
U.S. District Court, Southern District of Texas
U.S. District Court, Eastern District of Louisiana
U.S. District Court, Western District of Louisiana
U.S. District Court, Middle District of Louisiana
Employment
Dorothy Butler Law Firm, 2011 to present
Focusing on Tax and Bankruptcy Law
Personal
Sons, Daniel and Andrew
Husband, Todd
Professional Activities
Super Lawyers, Rising Star in Consumer Bankruptcy, 2016, 2017, 2018, 2019, 2020, 2021, 2022 (Super Lawyers is a Thompson Reuters service)
Top Attorneys in Bankruptcy – Austin Monthly – 2020, 2021, 2022
Top Financial Attorney in Hays County – San Marcos Record, 2020, 2021
Top Tax Preparer – Dripping Springs Century News – 2021, 2022
Dripping Springs Best Law Firm – 2022
MAMAs Austin (Mother Attorney Mentoring Association) Board Member, 2020-2022, Treasurer, 2021
Robert Calvert Inns of Court, 2014
Austin Bar Association/Austin Young Lawyer's Association Leadership Academy, 2014
Texas Legal Protection Plan Featured Attorney of the Quarter (First female attorney), 2013
Travis County Women Lawyers Association, 2011 – present
Austin Young Lawyers Association, 2010 – present
Austin Bar Association, 2010 – present
Texas Bar Association, 2010 – present
Louisiana Bar Association, 2009 – present
Presentations and Publications
A Guide to the Basics of Law Practice, CLE Panel Discussion, February 2014
Tax Laws Affecting Your LGBT Clients – Post-DOMA Tax Issues, Austin LGBT Bar Association, June 2014
How to Choose the Right Lawyer For You – Texas Legal, August 2020
Civic Activities
Womens Symphony League of Austin, 2022
Dripping Springs, Education Foundation Board Member 2015 – 2016
Dripping Springs, Education Foundation "Denim and Diamond Gala" Chair 2015 – 2016
Dripping Springs, Education Foundation Vice President of Communications 2015 – 2016
Dripping Springs Chamber of Commerce Leadership Program Inaugural Class 2016
Dripping Springs Education Foundation, Sponsor, 2013 – 2016
Dripping Springs United Methodist Church Preschool Walk, Sponsor, 2012 – 2014
Travis County Women Lawyers Association, Invited Fellow, 2014 – present
Travis County Women Lawyers Association, Annual Grant Luncheon Sponsor, 2013 – 2017
Seeds of Hope – Supporting Survivors of Domestic Violence, project coordinator, 2014
Hobbies and Interests 
Performance with Tom Becker – John Denver Tribute Orchestra
Andrea Bocelli at Moody Theatre – orchestra member June 2022
"The Who" Performance at Moody Theatre – orchestra member May 2022
Broadway Across America "Little Mermaid" – orchestra member (oboe/English horn) 
Broadway Across America "Sound of Music" – orchestra member (oboe/English horn) 
Broadway Across America "Wicked" – orchestra member (oboe/English horn) 
Broadway Across America "Mary Poppins" – orchestra member (oboe/English horn) 
Broadway Across America "West Side Story" – orchestra member (piccolo/flute/oboe/English horn/clarinet/bass clarinet/tenor sax/baritone sax) 
Broadway Across America "Anastasia" (flute/clarinet/oboe/English horn/tenor sax)
Bernadette Peters Performance at ZACH Theatre – orchestra member 
Il Divo Performance at Bass Concert Hall – orchestra member 
Celtic Women Christmas Performance – orchestra member
Regular orchestra member of Texas State University musical theatre productions