Team
---
Maren Louis-Ferdinand 
Scheduler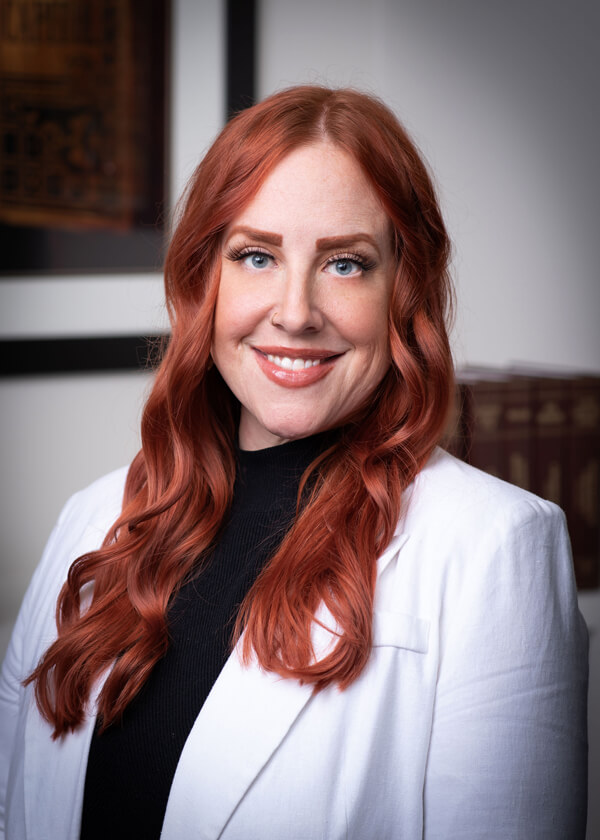 Maren Louis-Ferdinand is the Office Manager at Dorothy Butler Law Firm. Maren moved to the Dripping Springs area in 2018, following a new job opportunity for her husband. She hails from the North, moving here from Grand Forks, ND, just along the Minnesota border. Having gone from the extreme cold to the extreme heat, she's grateful for the warm winters and never-ending sunshine that Austin offers, as well as the natural beauty of Hill Country.
She attended the University of North Dakota and completed a Bachelor's of Science in Psychology with emphases in Developmental Psychology, Psychology of Learning and Education, and Social Psychology and Diversity, as well as a Bachelor's of Science in Criminal Justice Studies. During her time in school, Maren participated as a psychology research assistant and researcher herself, investigating the impact of gender in the professional field of Probation, and presenting the findings at a regional conference.
Following the completion of her two degrees, Maren worked for many years in a non-profit (CVIC), centered around providing crisis and wellness services to survivors of domestic violence and sexual assault. Maren worked as the Crisis Intervention Program Coordinator, heading up all crisis services, including the crisis line, family law services and protective orders, and emergency shelter placements. She did extensive work with several community-wide task forces as well, including the development and implementation of a Sexual Assault Response Team, creating a system-wide automated response to victims of sexual assault, ensuring they receive assistance from medical professionals, law enforcement, and advocates in a stream-lined, collaborative, and expeditious manner.
Given her extensive work as a certified Domestic Violence Advocate and Program Coordinator, Maren was also requested to act as an expert witness in court proceedings on behalf of domestic violence survivors, provide trainings to local professionals and volunteers, and frequently worked with local media to provide information, resources, reactions to related local cases, and to raise awareness in her community.
Following her time at CVIC and the birth of their third child, Maxine, Maren took some time to be home with her children and quickly picked up a DSLR camera and discovered a new passion. She honed her skills and, eventually, turned her hobby and passion into a small business. Maren still operates a photography business in the Dripping Springs and Austin metropolitan area and you can frequently find her behind the lens, documenting both her own life and family and the lives of her beloved clients.
Personally, Maren spends most of her time with family and friends, taking her two dogs for long walks in the hills, enjoying the live music scene in Austin, caring for her extensive houseplant collection, knitting, and painting.
Education
Central High School, Grand Forks, ND
B.S. Psychology, University of North Dakota, 2012
B.S. Criminal Justice Studies, University of North Dakota, 2012
Employment
DBLF, May 2023 to Present
Community Violence Intervention Center, Crisis Intervention Program Coordinator, Grand Forks, ND, 2011-2016
Personal
Husband: Andre
Son: Marcus
Daughters: Mira, Maxine, and Monroe
Pets: Lexi and Izzy (dogs) Stella, Salem, and Phineas (cats)